Ninja Whip
Ambassador of the Recognized Ninjago Community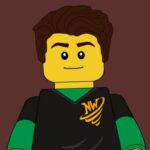 AFOL! Day 1, Ninjago Fan! 1/4 Creators of the NINJAGO DOCUMENTARY!
For inquiries: braydenmannnelson@gmail.com
NINJAGO – Ten Years of Spinjitzu:
A Documentary
On January 14th, 2011, LEGO Ninjago: Masters of Spinjitzu aired its first ever episode. Today, nearly a full decade later, four day-one Ninjago fans come together to create a comprehensive fan documentary, telling the tale of Ninjago's 10-year journey.
This documentary showcases the creation, evolution, legacy and future of what has become one of LEGO's most popular evergreen themes, featuring a roster of all-too familiar faces along the way! Join us on this journey in celebrating the first ten years of Spinjitzu, and for what is hopefully many more! Ninja-GO!
Masters of Brickjitzu